Others Cuban Tres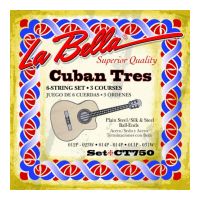 €13.50
In stock
Ordered before 15:00, will be shipped today.
.012P .023W .014 .014 . 011P .031W
Also known simply as a Tres, this small Cuban guitar is distinguished by its tapered body and three double courses that are widely spaced out on its guitar-sized fingerboard. 6-String Set, 3 Courses Tuning: G4 G3, C4 C4, E4 E3 or A4 A3, D4 D4, F#4 F#3 Plain Steel / Silk & Steel Ball-En...